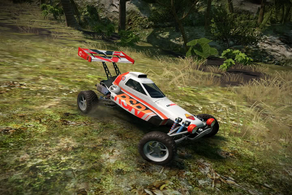 The
Jester Super BXR
is a
buggy
appearing in
MotorStorm
and
MotorStorm: Pacific Rift.
The Super BXR is more like a race-oriented
buggy
, as opposed to the others in Jester's line-up, having extreme aerodynamics, completely enclosed cab, and a massive rear spoiler. These features almost give it the appearance of a remote-controlled car.
The Super BXR is also featured as a downloadable remote-control Buggy in MotorStorm RC. It is marketed as "Veteran Buggy", and is available to download for the price of £0.40/€0.49/$0.49.
This appearance as a download was predicted by numerous sightings in trailers for the said game.
It is possible to use the large rear wing as a rudimentary wheelie bar.
The Super BXR might have a close resemblance to "Bandit" from the 1999 racing game, Re-Volt. This is further evidenced to the Super BXR's RC form in MotorStorm RC.
Despite being called the Jester Super BXR, it possesses no superiority over its counterpart, the Jester BXR, except maybe in terms of aerodynamics. (Although bodywork is purely aesthetic in the MotorStorm universe and serves no aerodynamical advantage).
In Pacific Rift, you unlock this vehicle once you reach Rank 6.
References
Edit
http://community.us.playstation.com/thread/1381559?start=0&tstart=0.com
http://www.facebook.com/MotorStormRC#!/photo.php?fbid=386017018087254&set=a.386028041419485.86682.275572505798373&type=1&theater
Ad blocker interference detected!
Wikia is a free-to-use site that makes money from advertising. We have a modified experience for viewers using ad blockers

Wikia is not accessible if you've made further modifications. Remove the custom ad blocker rule(s) and the page will load as expected.