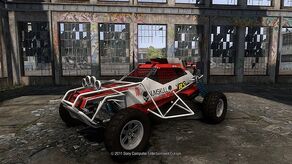 The
Jester Butane
is a
Buggy
first appearing in
MotorStorm: Apocalypse
. Based on its appearance, it is a hardcore racing-oriented buggy, keeping with the tradition of Jester's older B-series of buggies.
This buggy also appears, in RC car form, in MotorStorm RC.
Tyler uses this buggy on Mainline: "End of the Line".
The different Bodywork modifications for the Jester Butane seem to alter the use and location of radiator fans, the shape of the spoiler pylons, and the panel just in front of the cockpit.
Butane is a simple hydrocarbon which has four carbon atoms; it is commonly used as fuel in lighters.
References
Edit
http://community.eu.playstation.com/t5/MotorStorm/Motorstorm-Apocalypse-Vehicle-Guide-V1/m-p/12667487