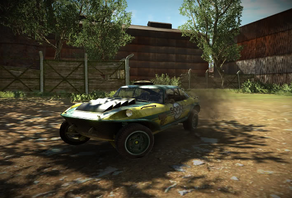 The
Italia Strano
is a
Rally Car
in
MotorStorm: Pacific Rift
. Oddly, it has an escape hatch mounted on the roof, along with a somewhat nautical feel to it.
Resemblance
Edit
The Strano resembles generic modern amphibious vehicles due to the very high ground clearance and rounded front "hull." Although the Strano would have problems with going though water, due to being an open-wheel vehicle, a characteristic not found in modern amphibious vehicles. It also (although very vaguely) has some resemblance to the Datsun 240Z. Overall, it resembles a heavily modified Pininfarina Ferrari 330 GTC Speciale.
The Strano also appears in MotorStorm RC, but its vehicle class has been changed from Rally Car to SuperMini.
The Strano's interior is a veritable mash-up of themes, as one will see a sonar screen, a feature only seen on nautical vessels. Also, some of the vehicle's dials read "Air Speed", which would usually be seen on aircraft.
"Strano" means "strange" in Italian.
If you set the Strano's livery to green, it will have Ferrari F40-style wheels.
The Strano has a DLC livery in the Adrenaline Expansion Pack.
One livery has the word NAUTILUS spelled across the side, along with the words Capt. Nemo. This may be a reference to 20,000 leagues under the sea.
The Strano is unique is the sense that each livery has a different set of wheels only seen on that livery.
References
Edit
http://community.us.playstation.com/thread/1381559?start=0&tstart=0
Ad blocker interference detected!
Wikia is a free-to-use site that makes money from advertising. We have a modified experience for viewers using ad blockers

Wikia is not accessible if you've made further modifications. Remove the custom ad blocker rule(s) and the page will load as expected.