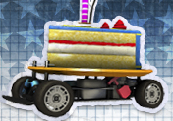 Celebrate MotorStorm RC's Birthday with the "Italia Buttercream": A slice of deliciously fast, Rally Car flavoured cake!
- PlayStation Store description
The Italia Buttercream is a remote-control Rally Car in MotorStorm RC. It consists of a remote-control Rally Car chassis, fitted with a plate and a slice of cake, topped off with a candle.
Availability
Edit
The Buttercream was originally removed from the PlayStation Store after an alotted time, however it has been re-released for a limited time only, for free.
References
Edit
http://www.facebook.com/MotorStormRC#!/photo.php?fbid=350173745004915&set=a.313948125294144.72987.275572505798373&type=1&theater