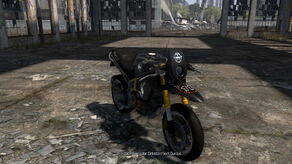 The
Italia Areto
is a
Superbike
in
MotorStorm: Apocalypse
. Its Carbon version can only be unlocked by those who preordered the
Carbon Pack
through various stores. The non-Carbon version is included in the
Premier Pack
, which was included with every new copy of MotorStorm: Apocalypse in North America. The Premier Pack is now also available from the PlayStation Store.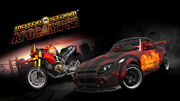 The Areto resembles the Ducati Hypermotard. Ducati is Italian, exactly like Italia, but only produces motorcycles.
Although the Areto's default livery doesn't appear anywhere in the list of usable liveries, it can still be transferred to other vehicles by utilizing the Vehicle Packages feature of Customization.
Unlike most other vehicles, the Carbon Edition Areto cannot be customized. On the other hand, its Premier Pack variant can be customized through its wheels, vinyls & livery, Personalization, and stickers.
The Areto is one of very few vehicles in the entire series to have its name imposed on itself, the others being the Ozutsu Blacksun J-GT and the Wombat Darkwood.
"Areto" is Basque for (somewhat suprisingly) "room", however it is unlikely this was the meaning intended by the game's producers.
Ad blocker interference detected!
Wikia is a free-to-use site that makes money from advertising. We have a modified experience for viewers using ad blockers

Wikia is not accessible if you've made further modifications. Remove the custom ad blocker rule(s) and the page will load as expected.