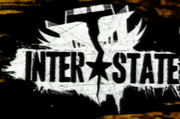 Interstate
is a
track
appearing in
MotorStorm: Apocalypse
. It has four versions of it and as its name suggests, it contains large portions of highway, some of which has collapsed. On some races, there are large numbers of
Crazies
on the track who will fire guns and rockets at the player's vehicle.
On the track Road Warriors, it is possible to go so fast that on the roadway's collapse on the fourth lap, it is possible to hit the disaster and wreck before it has finished collapsing. The same can happen on Rubbernecking when the helicopters lift the ramp.
Ad blocker interference detected!
Wikia is a free-to-use site that makes money from advertising. We have a modified experience for viewers using ad blockers

Wikia is not accessible if you've made further modifications. Remove the custom ad blocker rule(s) and the page will load as expected.