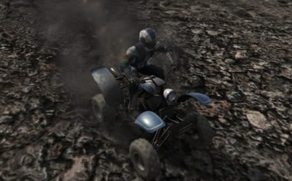 The Ibex Bushfire is an ATV in MotorStorm and MotorStorm: Pacific Rift. Unlike the other ATVs which are more modern, this vehicle has a more classic look, almost like that of a classic motorbike, with a classic-looking headlight, fuel tank, and front and rear fenders.
One of the liveries looks quite similar to Herbie's paintjob, except it has Turquoise stripes.
It is one of the default ATVs in the original MotorStorm, alongside the Molotov Stuuka.
In Pacific Rift, Edward T. Foxbat (yellow "Star" livery), Janine Brazon (blue livery) and "Weeman" Jones (red/blue/white livery) are the AI Characters seen riding this vehicle.
References
Edit
http://www.jeuxvideopc.com/forums/jeux/jeu/motorstorm-pacific-rift/vehicules-liste-sujet_89550_1.htm
motorstorming.comyr.com