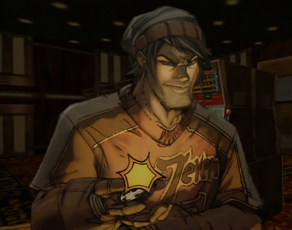 Hunter is Stone's only friend. Fellow Brotherhood members, they know that Tyler, Dice and Muerte are all more talented racers, and so watch their backs for glory-hungry rookies, afraid to lose their places in the Carrier hierarchy. With great power comes great paranoia...
"Get in line, rookie." - Hunter
- Festival Card #019
Hunter is a member of Brotherhood, and one of the three to survive the events of MotorStorm: Apocalypse. He is the only friend of Stone.
He is voiced by Arif S. Kinchen.
References
Edit
Ad blocker interference detected!
Wikia is a free-to-use site that makes money from advertising. We have a modified experience for viewers using ad blockers

Wikia is not accessible if you've made further modifications. Remove the custom ad blocker rule(s) and the page will load as expected.