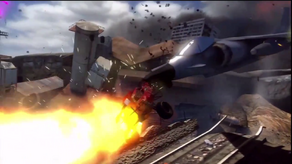 At scripted moments during certain races in the
MotorStorm: Apocalypse
Festival
, a
Harrier Jump Jet
may appear, hovering over the track and firing at the player's vehicle.
They use rapid-fire machine guns that can easily explode your vehicle if you happen to be boosting. One of them plays a large role in Mainline: "End Of The Line", as shown.
References
Edit
Ad blocker interference detected!
Wikia is a free-to-use site that makes money from advertising. We have a modified experience for viewers using ad blockers

Wikia is not accessible if you've made further modifications. Remove the custom ad blocker rule(s) and the page will load as expected.