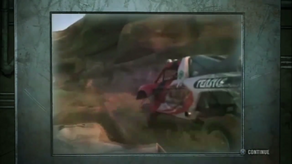 Hangnail Johnson is a legend across three states. His reputation as a knife fighter diminished after his tour of duty during Desert Storm, but his status as a biker only rose until his untimely death during the first ever MotorStorm festival, which took place at the start of the 21st century.
"Hangnail was just a twentieth century guy, I guess." - Big Dog
Festival Card #127
Jesse "Hangnail" Johnson was a good friend of Big Dog and one of the founders of MotorStorm. The two appeared together in the arena act 'MonsterStorm' and later went on the road to form MotorStorm. According to Big Dog, Johnson lost his head, literally, on the track RainGod Mesa when his brakes failed.
Hangnail's act during MonsterStorm was to set himself on fire.
Hangnail's racing truck in game is a Springbok Kalahari, which is playable.
It is possible that he appeared in the first game, as there is an AI competitor called "Jess Johnson". However, this AI is only ever seen riding an ATV and not a Springbok Kalahari.
References
Edit