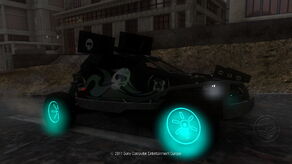 Glowing Rims
are a
DLC
Customization
pack for
MotorStorm: Apocalypse
. As the name suggests, these wheels glow in the dark, giving off a light blue or teal color.
These rims were first available for the Molotov Uradna-66, but were later removed in a patch.
They were first listed on the United States PlayStation Store on August 23, 2011; however downloading this pack actually gave players the gold rims instead. Shortly after the mix-up was realized, it was corrected.
The European PlayStation Store had the glow rims listed correctly and are currently free.

Ad blocker interference detected!
Wikia is a free-to-use site that makes money from advertising. We have a modified experience for viewers using ad blockers

Wikia is not accessible if you've made further modifications. Remove the custom ad blocker rule(s) and the page will load as expected.