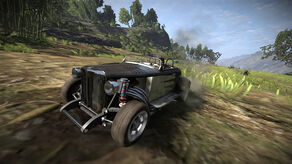 The Falfer Domino is an open-topped hot-rod with a Deuce Roadster ('32 Ford) [1]base, an impressive V8 engine and classic American street-racer stylings. Delivered in 3 styles, drivers face the choice of 2 beautifully detailed custom paint jobs, or the rust-junkie minimalism of the rat-rod look.
- PlayStation Store description
The Falfer Domino is a Rally Car first appearing in MotorStorm in the Domino & Adventure DLC, with 3 liveries that did not appear in Pacific Rift. It is modelled after a 1932 Ford V8 Roadster.
Although it is a hot-rod, its engine sounds like a turbocharged Rally Car unit, despite visibly having a V8 engine.
The Domino also appears in the RC Carnival Expansion Pack for MotorStorm RC, although its vehicle class has been changed from Rally Car to Muscle Car.
Like all DLC vehicles in the the original MotorStorm, this is one of very few vehicles in Pacific Rift that doesn't carry any liveries over from the original game.
In Pacific Rift, Sarah Hunter (green livery), Shandy Hand (purple livery) and Dmitri Molotov (black/white livery) are the AI Characters seen driving this vehicle.
References
Edit
motorstorming.comry.com
igcd.net
Cite error: <ref> tags exist, but no <references/> tag was found