Docklands is a track in MotorStorm: Apocalypse. As its name suggests, the track consists of dock areas, wrecked ships, objects dropped by cranes, collapsing smoke stacks, as well as elevated areas on shipping containers. Big Dog, Tyler, and Mash drive through a similar dock area during their respective prologues, Big Dog also returns during 'Route 666' although by that time the docks are no longer at sea-level.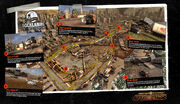 Dock of the Bay - Day One, Afternoon - Mash
Ship Shape - Day One, Afternoon - Tyler
Car Go - Day One, Afternoon (much darker than other two afternoon races) - Big Dog
Rising Damp - Day Two, Early Evening - Destructive Events - Mash
A white truck bearing the MotorStorm logo can be seen at the trackside.
There is a huge section of mud ideal for taking Mud Pluggers, Big Rigs, and Monster Trucks through, but by the time "Final Drive" takes place on the course Epilogue (which passes through Docklands as well as a variety of other tracks), the docks are underwater.
In Ship Shape, in the last building before the start/finish line, there's a gap which will lead you to a route between the structure and a wall of containers. At the end of the route, there is a ramp over another wall of containers and will have you land ready for the next lap or the finish line.

Ad blocker interference detected!
Wikia is a free-to-use site that makes money from advertising. We have a modified experience for viewers using ad blockers

Wikia is not accessible if you've made further modifications. Remove the custom ad blocker rule(s) and the page will load as expected.