---
Warning: This article contains information considered as spoiling, read at your own risk.
---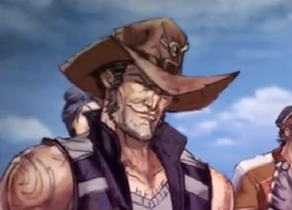 Dice gained his reputation in the casinos of Reno and on the Texas dragstrips. He's an easy-going guy, but that didn't stop him assuming control of the Brotherhood after an epic feud with Muerte. Now he has to survive both the quake and his inexorable enemy.
"I'm the luckiest man alive.." - Dice
- Festival Card #016
Dice is a character that appears in the Pro chapter of the Festival campaign in MotorStorm: Apocalypse. Like Tyler, he is a member of the Brotherhood, and his name fits in with their common theme of gambling. He is also the only character in the game to officially drive the Patriot Surger.
He ultimately meets his end when Muerte rams him off the road while they are racing head-to-head. While Dice and his Surger tumble through the air, he mutters his last words: "Uh oh - snake eyes!"
He is voiced by D. C. Douglas.
Vehicles & livery
Edit
Dice's livery consists of split blue/yellow paintwork, with dice stickers and no sponsor logos.
Ad blocker interference detected!
Wikia is a free-to-use site that makes money from advertising. We have a modified experience for viewers using ad blockers

Wikia is not accessible if you've made further modifications. Remove the custom ad blocker rule(s) and the page will load as expected.