MotorStorm: Monument Valley
Edit
There were various times at which new liveries were available for download in Monument Valley, including the Halloween scheme for the Castro Robusto, Holiday theme for the Castro Varadero, Chinese New Year Wulff Revo, and the Team liveries such as Big Eye Bunny, Quickfoot, Crazy Samauri and Numskull packs for all vehicles. There is also new liveries unlocked through the DLC packages, for example the Mute Bear livery for the Nord Viking is unlocked through the Devil's Weekend DLC.
MotorStorm: Pacific Rift
Edit
Manufacturer-themed signature packs were made available for various vehicle manufacturers, mainly those with large vehicle lineups. There are eight in total;
Wombat
,
Jester
,
Lunar-Tec
,
Patriot,
Monarch
,
Mohawk
,
Voodoo
, and
Atlas
.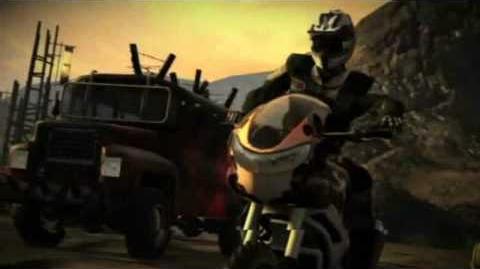 MotorStorm: Apocalypse
Edit
The first DLC livery pack was The Launch Livery, which was supposed to be available for a 2 week period (but is still available for download), commemorating the launch of
MotorStorm: Apocalypse
in certain countries. Included is a sticker listed under Artwork depicting a strobe party on the deck of
The Carrier
. The pack was released in conjunction with the
Supercar Elite pack
.
The Rock Livery
Edit
Themed after the new Prison Island Track released in the Afterparty patch, the livery consists of a stripe vinyl and the Logo of the Rock, as well as "City Correctional Facility" stickers.
Summer Livery
Edit
A new livery released some time in Summer in Europe. It has yet to be made available in other areas. It has the number '69 on the side, probably referencing the Bryan Adams song "Summer of '69".
Halloween Livery
Edit
Added on October 31st, 2011. Consists of a livery and Jack-O-Lantern Artwork.
Festive Winter Livery
Edit
Added some time in December, with a scheduled removal date of January 2nd. Consists of a mountain livery with 'evil' snowman artwork.
New Years Livery
Edit
Contains a fireworks-themed artwork and vinyl. Available until January 9th.
Chinese New Year Livery
Edit
Contains Chinese New Year-themed artworks, vinyls and a livery.
Valentine's Day Livery
Edit
Contains Valentine's Day artworks.
References
Edit
http://blog.eu.playstation.com/2011/04/13/motorstorm-apocalypse-dlc-launches-today/
Ad blocker interference detected!
Wikia is a free-to-use site that makes money from advertising. We have a modified experience for viewers using ad blockers

Wikia is not accessible if you've made further modifications. Remove the custom ad blocker rule(s) and the page will load as expected.