Not to be confused with Coyote Revenge.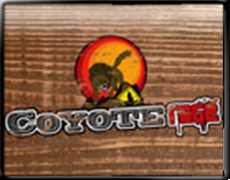 Mud channels and sheer rock gorges. Coyote Rage is a breakneck sprint around a small butte that many in MotorStorm used as a warm up to break in their vehicles. The favourite of many new starters, the Rage was a crucible for everyone that passed through the festival.
"Again! Again! Let's go again!" - Vigilante
- Festival Card #046
Coyote Rage is one of the smallest tracks in MotorStorm. The loose-surfaced first corner must be taken carefully by the larger vehicles as they can lose grip and go off the track; however, the high-speed mud section will make up for that. There are also numerous raised areas for the lighter vehicles to exploit and a tight chicane before the final turn. It has a reversed variant as outlined below.
This track is reversed for the DLC Coyote Revenge course. (Gameplay)
When racing with the larger vehicles, this track can get easily jammed up, making it difficult for players to gain some ground on the opposition.
References
Edit
http://www.motorstorm.com/games/monument-valley/tracks/coyote-rage
Ad blocker interference detected!
Wikia is a free-to-use site that makes money from advertising. We have a modified experience for viewers using ad blockers

Wikia is not accessible if you've made further modifications. Remove the custom ad blocker rule(s) and the page will load as expected.