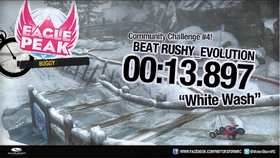 Community Challenges are special optional challenges hosted by Evolution Studios on their facebook page for MotorStorm RC. The challenges themselves are typically events taken from the festival and players are required to beat a specific time set by a developer. There are no rewards for beating the challenges, as they are completely optional. Players who have a facebook and decide to partake in these challenges should like the challenge, comment their time, and share the image to get others to try the challenge.
Challenge Listing
Edit
First Community Challenge
Edit
Second Community Challenge
Edit
Third Community Challenge
Edit
Fourth Community Challenge
Edit
Fifth Community Challenge
Edit
Ad blocker interference detected!
Wikia is a free-to-use site that makes money from advertising. We have a modified experience for viewers using ad blockers

Wikia is not accessible if you've made further modifications. Remove the custom ad blocker rule(s) and the page will load as expected.