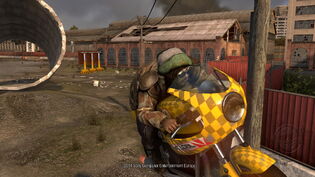 Chronic is the Carrier's unofficial minister, preaching a hodge-podge mix of Buddhism and Christianity combined with whatever spiritualism he once heard in some bar at 3 in the morning. He's able to drive blindfolded - but not without hitting things.
"There's a plan, okay? Trust the plan." - Chronic
- Festival Card #036
Chronic is a playable character in MotorStorm: Apocalypse. He is unlocked by levelling up in online multiplayer.
Appearance
Edit
Chronic appears very dishevelled, with much straggly facial hair combined with dreadlocks and a rastacap. His concept art shows him wearing a camoflauge jacket and shoulderpads.
All of Chronic's vehicles are painted candy gold, with notable sponsors being AutomaniX and Spare Parts; the paintwork is rather rusty and scratched.
Ad blocker interference detected!
Wikia is a free-to-use site that makes money from advertising. We have a modified experience for viewers using ad blockers

Wikia is not accessible if you've made further modifications. Remove the custom ad blocker rule(s) and the page will load as expected.