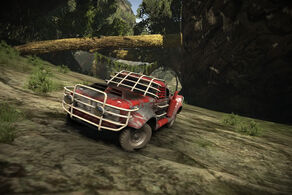 The Castro Capitano Racing Truck was built from a 70's pickup. Heavily armoured, a supercharged V8 compensates for the extra weight. Created way back by one of the earliest competitors, it looks like being around a few more years yet.
- PlayStation Store description
The Castro Capitano is a Racing Truck that featured in the Capitano & Varjack DLC pack in the original MotorStorm, and was featured on the disc for MotorStorm: Pacific Rift. Like other Castro vehicles, it is based on an older, classic vehicle. The most pronounced feature on this particular truck is that it's entire front windshield is covered in roll-cage tubing, with vertical, Big Rig-style exhausts, teamed with an almost comically large bonnet scoop.
"Capitano" is Spanish for "captain".
The side-mounted Big Rig-style exhaust pipes on the Capitano may be a reference to a trim line for the Dodge D Series called the Lil' Red Express, which had a similar exhaust setup.
The Capitano returns to the MotorStorm series in the RC Pro-Am Expansion Pack for MotorStorm RC.
The blue vinyl for this vehicle possesses the traditional artificial wood style which many classic sedans tend to possess.
This vehicle and the Patriot V8 share a themed paint job, namely the "Stone Bonez" (sic) livery.
Like all other DLC vehicles from MotorStorm, it is one of the few vehicles in Pacific Rift that doesn't carry any liveries over from the original game.
It is one of the default Racing Trucks in Pacific Rift, alongside the Patriot Rodeo.
In Pacific Rift, Travis Ryan (blue livery), Dmitri Molotov (faded red livery) and Oscar Gratz (black/red "splatter" livery) are the AI Characters seen driving this vehicle.

It is also interesting to note that these same 3 characters all drive the 3 Humbler Diablo's and Atlas Varjack's in their respective liveries.
References
Edit
http://community.us.playstation.com/thread/1381559?start=0&tstart=0
motorstorming.comyr.com
igcd.net