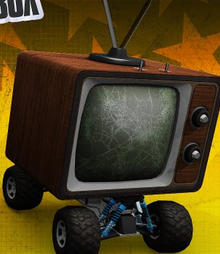 And now a special broadcast from the MotorStorm RC Festival: The Castro Box is a heavy-hitting Monster Truck programmed to transmit your success onto your opponent's Pitwall. Stay tuned for more victories!
- PlayStation Store description
The Castro Box is a downloadable remote-control Monster Truck in MotorStorm RC. It is modelled after a stereotypical retro television with "rabbit-ear" antennae and a shattered screen.
Price/availability
Edit
The Box is available to download from the PlayStation Store for the price of £0.21/ €0.25/$0.21.
References
Edit
http://www.facebook.com/MotorStormRC#!/photo.php?fbid=410032699019019&set=a.313948125294144.72987.275572505798373&type=1&theater