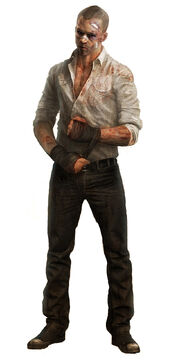 Casket Dan has done time, but that's not unusual for a MotorStormer. He made good use of it while inside, becoming a master carpenter. He prepared for his first MotorStorm by making his own coffin.
"Pass me a nail, huh?" - Casket Dan
Festival Card #037
Casket Dan is a playable character in MotorStorm: Apocalypse, and one of the four ones unlocked by default. Judging by his Festival Card, he seems to have had a very troublesome past.
Appearance
Edit
Casket Dan sports a very short, shaved hairstyle with a flat mohawk down the middle. He wears a dirtied white buttoned-up flannel, but with rolled sleves to his elbows, and dark brown gauze fabric wrapped around his hands. His outfit is rounded out with dirtied bistre pants and steel-toed work boots. He has numerous scrapes and cuts covering his body, some covered by bandages.
Vehicles used
Edit
Ad blocker interference detected!
Wikia is a free-to-use site that makes money from advertising. We have a modified experience for viewers using ad blockers

Wikia is not accessible if you've made further modifications. Remove the custom ad blocker rule(s) and the page will load as expected.