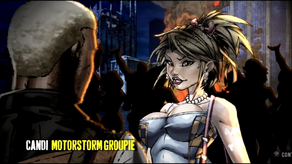 Candi
is a
character
in
MotorStorm: Apocalypse
. She is described by certain
Festival Cards
and
Motion Comics
as the "MotorStorm Groupie". She can been seen hanging around various events, sometimes with
Tyler
.
Ms. Austin
tries to keep her away from
Mash
.
She is voiced by Moira Quirk.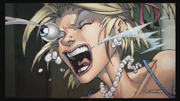 In one cutscene during Mash's story, Candi seems to have tried to flirt with him (after his unexpected question), which prompted Ms. Austin to keep her away from Mash.
In certain cutscenes in which Cutter is speaking, a rat can sometimes be seen in the background, sometimes holding Candi's glass eye.
According to her Festival Card, Candi used to be a socialite hailing from the newest members of the uppermost economic class of Los Angeles (seemingly explaining her behaviour during the Festival), and the said card explains the rather traumatic origin of her glass eye - a car accident.
References
Edit
http://www.youtube.com/watch?v=a4YnCG06byU http://www.youtube.com/watch?v=hPrCPldOWiU&feature=related
Ad blocker interference detected!
Wikia is a free-to-use site that makes money from advertising. We have a modified experience for viewers using ad blockers

Wikia is not accessible if you've made further modifications. Remove the custom ad blocker rule(s) and the page will load as expected.