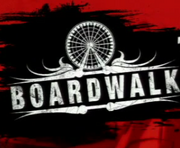 BoardWalk
is one of the available
tracks
in
MotorStorm: Apocalypse
. It has three varients and is made up of a boardwalk, beaches, as well as paths between the various carnival structures on the boardwalk itself. Changing tides as well as a sea-tornado occur at scripted moments during some races.
Pier Pressure - Day One, Afternoon - Tyler
Waves of Mutilation - Day Two, Dawn - Tyler - destructive events: severe storm with hurricane; boats are thrown along the shore by hurricane at scripted moments; dock collapses; lightning destroys Ferris Wheel; earthquake blocks off archway path; lightning destroys buildings; buildings collapse; a large ship crashes into the boardwalk.
Sea Spray - Day Two - Morning - Big Dog
"Waves of Mutilation" is the only race in Apocalypse to feature a hurricane in a severe thunderstorm. Despite this, the hurricane never actually moves from its location throughout the entire race and doesn't make any attempt to go on land at all.
Due to the rain on "Waves of Mutilation", racers' boost temperature will always be cooling (unless they enter a covered area). This also happens on other tracks with rain.
Despite being in the middle of the ocean and never moving from its location, the hurricane spout will throw a "Big Gas" Atlas Bobtail tanker at the racer on the third lap, exploding on impact with the ground. How the truck got inside the hurricane spout is completely unknown.
On this track there is a large arch before the Ferris wheel which has the word "Colossus" which may be an easter egg to the previous track in MotorStorm: Pacific Rift, Colossus Canyon.