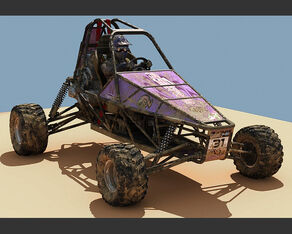 The Beta Buggy, also known as "Frame 02" is a Buggy seen in either the late alpha or beta of MotorStorm. It makes a brief appearance in the original E3 trailer and in the game's intro movie.
The unknown buggy possesses a close resemblance to the Voodoo Rattler, most likely being replaced by the Rattler upon the game's release.
The tyre tread pattern on this buggy is very similar to that of some Mud Pluggers such as the Lunar-Tec Asylum.
Ad blocker interference detected!
Wikia is a free-to-use site that makes money from advertising. We have a modified experience for viewers using ad blockers

Wikia is not accessible if you've made further modifications. Remove the custom ad blocker rule(s) and the page will load as expected.