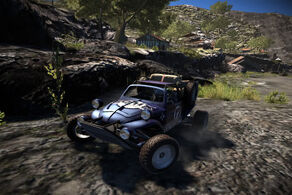 The
Beelzebuggy Carabid
is a
Buggy
that appears in
MotorStorm
and
MotorStorm: Pacific Rift
. It resembles a Volkswagen Beetle (or Bug) converted into a buggy, as is commonly done in real life. Its roof has been chopped off and replaced and reinforced with a metal plate and a tube frame, fitted with spare tires and other equipment.
It seems to use a rear suspension rather identical to that of a close competitor...
The "spotlights" are placed on where the indicator lights would be on a real Volkswagen Beetle/Bug.
In Pacific Rift, the body of the Carabid is also used on the Beelzebuggy Bombadier.
On several Pacific Rift tracks, wrecked Carabids can be found with the white and red livery.
Much like the Castro Robusto & Voodoo Rattler, This is one of the very few vehicles that doesn't carry any player liveries from MotorStorm over to Pacific Rift.
In Pacific Rift, Edward T. Foxbat (orange "Spare Parts" livery), Janine Brazon ("Dakar" livery) and "Weeman" Jones (dark blue "Sonix" livery) are the AI Characters seen driving this vehicle.

It is interesting to note that these same 3 drivers also drive the 3 Castro Robusto's and Ibex Bushfire's in their respective liveries.
References
Edit
http://community.us.playstation.com/thread/1381559?start=0&tstart=0
motorstorming.comyr.com