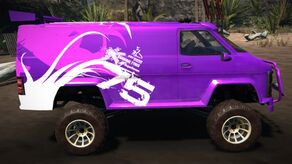 The Atlas Varjack Mud Plugger was converted from an 80's West Coast van in one day by a team of veterans. Packing a super charged V8, jacked suspension and 4WD, it's easily as good as anything in its class. There's plenty of space in the back too - maybe you can hire it if you need to salvage bits of your wreck.
- PlayStation Store description
The Atlas Varjack is a Mud Plugger available in the Capitano & Varjack DLC pack for MotorStorm, and later on-disc in MotorStorm: Pacific Rift. It is unique in that it is based off of a full-size van rather than a truck like most other Mud Pluggers.
Resemblance
Edit
The Varjack resembles a third-generation Chevrolet Van and/or the GMC Vandura Rally. The Varjack also, unlike its real-life counterparts, comes with bullbars and much higher ground clearance.
It looks somewhat similar to the Lunar-Tec Wendigo, although the Varjack is noticeably shorter.
It strongly resembles the GMC Vandura used in the cult television show The A-Team.
One of this vehicles' liveries in Pacific Rift features rusted cheqeurplate covering the entire bottom half of the body.
That specific livery features an error on the vehicle select screen: the bull bars are colored wrong. They are colored gray when they should be yellow.
References
Edit
http://community.us.playstation.com/thread/1381559?start=0&tstart=0
channel4gaming.com
Ad blocker interference detected!
Wikia is a free-to-use site that makes money from advertising. We have a modified experience for viewers using ad blockers

Wikia is not accessible if you've made further modifications. Remove the custom ad blocker rule(s) and the page will load as expected.