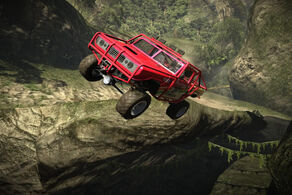 The
Atlas Jackhammer
is a
Mud Plugger
in
MotorStorm
and
MotorStorm: Pacific Rift
. It is a full-sized truck, similar to a Humvee and other SUVs, with a complete tubular rollcage surrounding it.
Big Dog's "Humvee" from one of his cutscenes may in fact be this exact vehicle, but it's more likely to be a Pacifier.
This Mud Plugger seems to resemble the Atlas Pacifier; However, the Jackhammer is notably shorter, having only two doors, as opposed to the Pacifier's four doors. In fact, the Jackhammer seems to be a cross between the Humvee and the first-generation Ford Bronco.
The Jackhammer is also included in the Mischief Vehicle Pack 1 as a remote-control Racing Truck.

Coincidentally, because the tires stick out significantly in its RC iteration, it resembles its appearance in the E3 2005 trailer for the first Motorstorm.

In Pacific Rift, the two rear mufflers are off-center.
In Pacific Rift, this vehicle is unlocked by reaching Rank 5.
In the original MotorStorm, this is one of the only vehicles where the AI drivers sometimes use Player liveries. One of the only other examples of this is the Beelzebuggy Carabid.
In Pacific Rift, Flameboy (blue/grey "US Air Force" livery), Tommy Knocker (red livery) and Gemma Hewitt (camo livery) are the AI Characters seen driving this vehicle.
References
Edit
http://community.us.playstation.com/thread/1381559?start=0&tstart=0
igcd.net
motorstorming.comyr.com