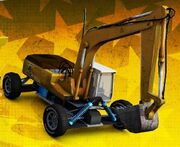 "Industrial diggers may not be the obvious choice for high-speed radio controlled racing, but anything goes in MotorStorm RC. The Atlas Excavator is a nippy Buggy that can easily bury its rivals on any track."
- PlayStation store description
The Atlas Excavator is a downloadable remote-control Buggy in MotorStorm RC. It is modelled on a typical excavator.
Price/Availability
Edit
The Excavator is available to download for €0.25/£0.21/$0.25 from the PlayStation Store.
The boom which extends off the front of this vehicle lacks collision detection and as a result may clip through other solid objects. The same can be said of the large, hotdog-based body of the Wulff Weenie.
The Excavator was released at the same time as the Atlas Earthquake, since both of them are based on civilian construction vehicles.
References
Edit
http://www.facebook.com/MotorStormRC#!/photo.php?fbid=379859978702958&set=a.313948125294144.72987.275572505798373&type=1&theater
Ad blocker interference detected!
Wikia is a free-to-use site that makes money from advertising. We have a modified experience for viewers using ad blockers

Wikia is not accessible if you've made further modifications. Remove the custom ad blocker rule(s) and the page will load as expected.