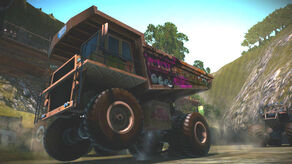 The
Atlas Earthquake
is a
Monster Truck
in
MotorStorm: Pacific Rift
. It is the largest Monster Truck in the MotorStorm series, and is arguably the largest of any driveable vehicle. It is radically different from the other vehicles in its class, being based on a civilian construction vehicle, specifically a large quarry truck.
Appearance
Edit
This Monster Truck is based on a Caterpillar 777D haul truck (a massive dump truck) with huge side exhausts. It comes with various liveries, ranging from stock yellow and green, being covered in graffiti and rust or two grey liveries, one with the word "Panzer" and the other with "raVine" and stripes.
The Earthquake is also available as a downloadable Monster Truck in MotorStorm RC for the price of €0.25/£0.21/$0.25.
In reality, this truck could only travel at (very) slow speeds, as its true propulsion is electric motors; its diesel engine connects to an electric generator.
The green decor of the truck appears to be based on Long Haul from the Transformers franchise, who also is a quarry truck.
Players normally have to get the Platinum trophy to unlock the Earthquake. However, it may be unlocked at random without the trophy due to a fairly common glitch with buying the expansion packs or a different trophy unlocking, such as the "Winner" trophy.
This Monster Truck has a unique wheel arrangement; it uses the 'skinny' monster tires, but uses only one pair total at the front and the normal two pairs at the rear. Obviously to save time, despite the fact that the front tires are that skinny, they still leave standard Monster Truck wheel sized treads in mud and such.
The words "Turbo Diesel" are visible on the side of the cab, which reflects its real-world powertrain. However, during gameplay, the Earthquake has the same engine sound as a gasoline-powered monster truck.
The Earthquake's unusually large bodywork can be a hinderance on tracks with low clearance such as Sugar Rush.
The grey "PANZER" livery is somewhat reminiscent of the Liebherr T 282B, another massive haul truck.
Travis Ryan (yellow "Hoffman" livery), Tommy Knocker (grey "raVine" livery), Cue Ball (grey 'PANZER' livery), Jeff Lawless (green livery) and Chunky Baxter (brown "Graffiti" livery) are the AI Characters that are seen in this vehicle.
The back-end wheels on the Earthquake, are the same as the wheels on the Atlas M-SUV Monster Truck.
The RC version uses the standard 'Tractor tread' Monster Truck tyres, as opposed to the full-size Earthquake, which uses doubled-up skinny tyres.
References
Edit
http://motorstorming.comyr.com/vehicles/?cid=402
igcd.net
Ad blocker interference detected!
Wikia is a free-to-use site that makes money from advertising. We have a modified experience for viewers using ad blockers

Wikia is not accessible if you've made further modifications. Remove the custom ad blocker rule(s) and the page will load as expected.